Post by Radrook Admin on Sept 23, 2022 18:06:00 GMT -5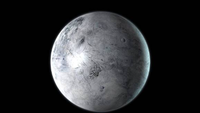 As a person who grew up being told that there were only nine planets in our solar system, the disqualification of Pluto as a planet and its reclassification as a dwarf planet seems rather quaint in view that Mercury has retained its original planetary status. After all, Pluto displays far more planetary surface characteristics than Mercury does such as an atmosphere, rolling mountain ranges, subsurface geological activity, surface wind, cryovolcanism, seasonal weather changes and even has moons.
www.sciencedirect.com/science/article/abs/pii/S0377027320303619
www.iflscience.com/geologic-activity-all-confirmed-pluto-34523
en.wikipedia.org/wiki/Moons_of_Pluto
In contrast Mercury seems is a veritable replica of our moon. Just one airless monotonous display of a cratered landscape. In fact, our moon and Mercury could switch places with no noticeable difference in appearance in out night sky. Just two airless cratered worlds.
education.seattlepi.com/surfaces-moon-mercury-similar-4627.html
Additionally, the criteria for the reclassification seems arbitrary and unjustifiable. For example, What difference does it really make that Pluto hasn't cleared its neighborhood of debris? That seems like an arbitrary rule introduced to keep the number of planets in the single-digit category. If the solar system has 20 planets, or even more, so what? No big deal. Is it to avoid the memorization task for kids? That would be encouraging mental laziness. Who says they have to be memorized?
In any case, here is the Dwarf planet that caused Pluto to be demoted.
Eris
Eris (minor-planet designation 136199 Eris) is the most massive and second-largest known dwarf planet in the Solar System. It is a trans-Neptunian object (TNO) in the scattered disk and has a high-eccentricity orbit. Eris was discovered in January 2005 by a Palomar Observatory–based team led by Mike Brown and verified later that year. In September 2006, it was named after the Greco–Roman goddess of strife and discord. Eris is the ninth-most massive known object orbiting the Sun and the sixteenth-most massive overall in the Solar System (counting moons). It is also the largest object that has not been visited by a spacecraft. Eris has been measured at 2,326 ± 12 kilometers (1,445 ± 7 mi) in diameter; its mass is 0.28% that of the Earth and 27% greater than that of Pluto, although Pluto is slightly larger by volume.
Eris has one large known moon, Dysnomia. In February 2016, Eris's distance from the Sun was 96.3 AU (14.41 billion km; 8.95 billion mi), more than three times that of Neptune or Pluto. With the exception of long-period comets, Eris and Dysnomia were the most distant known natural objects in the Solar System until the discovery of 2018 VG18 in 2018.
Because Eris appeared to be larger than Pluto, NASA initially described it as the Solar System's tenth planet. This, along with the prospect of other objects of similar size being discovered in the future, motivated the International Astronomical Union (IAU) to define the term planet for the first time. Under the IAU definition approved on August 24, 2006, Eris, Pluto and Ceres are "dwarf planets", reducing the number of known planets in the Solar System to eight, the same as before Pluto's discovery in 1930. Observations of a stellar occultation by Eris in 2010 showed that it was very slightly smaller than Pluto, which was measured by New Horizons as 2,377 ± 4 kilometers (1,477 ± 2 mi) in July 2015.